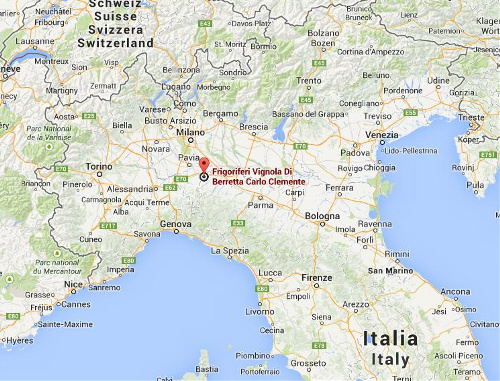 FRIGORIFERI VIGNOLA Cold Storage & Logistics si trova al centro del principale polo logistico italo-europeo, nei pressi di Milano, vicino all'autostrada A21.
We are located in the center of the most important European logistic hub, closed to Milan, next to Highway A21.

Sede principale / Headquarter:
Via S. Marzano 8/A, 29015 Castel San Giovanni (Piacenza) – Italy
N 45° 2' 26.044" (45.040568)
E 9° 24' 10.37" (9.402881)
Nuovo Stabilimento / New Facility:
Via Castel S. Giovanni , Loc. Ca' Verde, 29011 Borgonovo Val Tidone - Italy
N 45° 2' 11.263" (45.036462)
E 9° 27' 1.564" (9.450434)
Visitate la nostra Gallery su Instagram / Visit our Gallery on Instagram @frigoriferivignola
Per informazioni, richieste d'offerta, servizi logistici personalizzati B2B e B2C, contattate il nostro Customer Care.
For any information or request for quotation, customized B2B and B2C logistic services, please contact our Customer Care.
Termini e Condizioni / Terms and Conditions
FRIGORIFERI VIGNOLA Di Beretta Carlo Clemente
LOGISTICA REFRIGERATA - Cold Storage & Logistics
Loc. San Marzano, 8/A 29015 Castel San Giovanni (PC)- Italy
P.IVA: 01431320330 C.F.: BRTCLC81C03F205Q
Email: info@frigoriferivignola.it
Phone: +39 0523/885124 - +39 0523/1871520
Instagram: frigoriferivignola